The dark internet is notorious for illegal activities such as drug sales, weapon sales, and much more. However, it also has bright sides, such as various legal dark web links to offer a safer experience.
You may want to learn more about the positive sides of dark web links before diving into the Tor world. If so, we are here to help you. Let's look at everything you need to know about the dark web and its links.
Is the Dark Web Still Running in 2023?
Some internet users may tell you that the dark web is no longer running, but that is not true. Many dark marketplaces such as Hydra, AlphaBay, and Genesis may have been taken down by the government, but the entire web is still operating.
You can download the Tor Browser for the most reliable dark net experience. Other alternatives, such as I2P and Freenet, can also help you access dark web links.
Remember that not all original dark sites are working in 2023. You can use directories such as Daniel or Dark.Fail to find out which dark web links are active currently.
How Big is the Dark Web?
People believe that the dark net is the biggest web on the internet. That is not true because of the presence of the deep web. Remember, dark and deep internet are two different things. Their mode of access, operating mechanism, and links vary significantly.
Currently, the dark net makes up 6% of the total internet size. Websites on this internet are intentionally hidden, which makes it enormously difficult to measure the exact size of the dark web.
There are more than 3,000 hidden platforms on this web. It also hosts at least 750 TB of data from just 60 sites. The actual figure may vary with time because, every day, dark web links are added and removed from this web.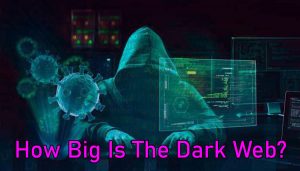 Whatever the case, you must remember that the dark internet will always be bigger than the surface web.
What are the Characteristic Features of Dark Web Links?
People may tell you that dark web links are unique, but you may wonder about their exact meaning. The most important thing to remember is that you cannot access dark web links without a special browser.
If someone sends you a site saying it is a dark link, but you can access it from the surface internet, then you have been fooled. Dark links are called Onion URLs because their domain ends with the ".onion" extension. You cannot open such links on a regular browser such as Chrome, Microsoft Edge, and Opera.
You will require a Tor Browser or another browser that connects to the Tor network before you can open a specific onion link. The main reason behind this special requirement is dark URLs are hidden from indexing using advanced tools and sent over other networks.
So always check for these characteristic features when accessing dark links for a safer experience.
The Advantages of Using DarkNet Links
Let's look at the benefits of dark web links:
New Dark Web URLs Appear Every Day
Every day, new dark links appear on the internet, making you cast a wider search net. You will not have to worry about a specific link being down because many other alternatives will be present. Sometimes, mirror versions of specific sites are also created to offer the same services without hindrances.
For example, if you're using an online book-reading platform that has been taken down due to piracy, you don't have to worry much. Soon, someone will create its mirror version with the same name but a different URL to ensure people can read online books easily.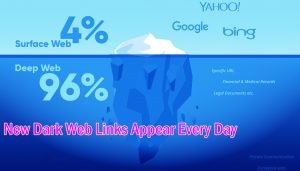 That is why the popping up of new dark links daily is a blessing for many dark users. The best way to find such URLs is by using a reliable directory such as The Hidden Wiki. This directory is updated regularly to offer you active dark links.
You may also use other platforms that allow you to check whether a site is active or not before opening it. Such pages can help you improve your security when accessing dark web links. Researching about these platforms on the surface internet will help you with dark web browsing.
Always make sure to use dark links that you have some knowledge of beforehand to avoid landing on suspicious platforms.
DarkNet Links Offer High Anonymity
Everyone will tell you that dark links offer anonymity, but you may wonder how they do that. Well, the top way this web offers privacy is by not keeping activity records. You can visit a dark link without worrying that it will be added to your browser history.
Dark links are hosted by unique server service providers that do not keep records of web activity. Even specific platforms do not store history to ensure no traces are left for government agencies to follow. This is why your identity will be hidden when browsing legal or illegal dark links.
Another way dark links offer anonymity is by operating decentralized sites. Such platforms do not perform KYC checks, so they will never ask you for your personal information. You will not be required to make an account or disclose your email address for marketing.
Due to your premium VPN and safety measures against dark links, your IP address will also be masked with several security layers. This is why tracing your home address will be extremely difficult for hackers, government officials, and other people.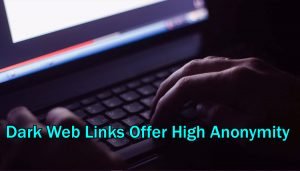 A dark link will also not save your search history on the site's search tab. For example, you may have looked up a specific product on a seller's dark link. This search will not be recorded in any log to ensure no one can track your activity through the things you view on the web.
Research Have Been Made Easier By Dark Web URLs
Journalists and researchers benefit from dark links because it helps them collect data. You can also communicate with sources anonymously for safety reasons. This is because of the numerous chatting platforms on the dark internet.
Platforms such as Sci-Hub also offer unrestricted access to medical journals so that you can find resources to back your data easily. Such flexibility is not available on the surface web. Research journals and published articles are also not available for free on the regular internet.
Instead, you will have to buy access to research material on the surface web, which affects your finances significantly. This is why the dark web is a better place for online research without spending a dime. You can also find uncensored reports on discussion forums on this web.
As a journalist, you may hold various meetings to get information from people, but most of them turn out to be futile because the source may not disclose details due to safety reasons. People who come forward online on the surface web may have their comments removed by the relevant app due to different reasons.
However, comments and posts are not removed from the dark net. This is why you can search for reports on this web for your article more easily.
You Can Use Dark Web Links to Report Crimes
When people think of reporting a crime, their first thought is to call the police or go to their nearby police station. This discourages them from reporting the activity because they may worry about their safety. You may also believe that the police may find you suspicious and link you to the crime instead of the original perpetrator.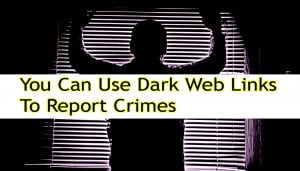 Whatever the case, you may likely end up not reporting the crime. The good news is that dark web links can help you perform your moral duties without compromising your safety. Dark URLs to sites such as GlobaLeaks can help you send encrypted evidence or report to journalists.
You can also send a copy of that file to police agencies to ensure the crime is investigated. The CIA also understands the importance of the reporter's safety, which is why it has introduced a dark web site to get tips and evidence.
Another way to use the dark internet for reporting crimes is by using an anonymous dark email service. Such apps allow you to send messages without revealing your identity and IP address. You may also use specific links to send self-destructive messages.
The best thing is that this way of reporting crimes can keep you and your loved ones safer.
Enjoy Secure Communication Through Dark Web Links
The easiest way to communicate securely with your loved ones or strangers on the dark web is by using dark net chatrooms. Such links will take you to private programs that will help you start new chats without their history being recorded.
Onion Mail is a dark link that will let you send anonymous emails on the web. Keybase is another messaging platform on the dark net that lets you send anonymous messages. It also encrypts your chats so that third-party users cannot intercept your conversations or learn about the chat's content.
There are also live chat platforms, such as Delta Chat on the dark net, that let you communicate privately. All records of the messages will be deleted as soon as you shut down the page. The best thing is that this site has a user-friendly interface.
Whether you want to plan a surprise for your loved one or chat with people who shouldn't be in your life, dark web messaging programs can help you do that. You can find such links on The Hidden Wiki or listicles on the surface internet.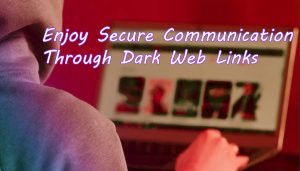 Be sure to use those messaging platforms that have a good reputation on the internet and with a reliable onion link.
Dark Web Links Can Allow You to Bypass Censorship Restrictions
It is no secret that a common function of the dark internet is to bypass censorship laws. This is why most dark links will direct you to sites with unrestricted content. The content may be sensitive articles related to investigative journalism or the political situation of different countries.
You may also encounter sites that offer you access to banned books or movies within your country. Remember to mainly watch or read content online on dark sites. Platforms that make you download things are riskier to use because the file may infected with malware.
This is why when you bypass censorship laws, ensure that you don't have to download files to see the uncensored content. While some dark sites may operate on a downloading system, there are many links that offer online streaming and reading options.
Legal news sites such as BBC have Tor versions to help you see uncensored foreign news without revealing your identity. Do thorough research before choosing specific platforms to view restricted content.
The dark net also has exclusive publication sites that post news on the web. These platforms are free of censorship regulations and copyright restrictions. The best thing is that the content on such sites is reliable.
Some Dark Web Links are Legal
People may tell you that there is not a single legal site on the dark net, but that is not true. Some platforms that are present on the surface web also have Tor versions to cater to a larger audience. For example, DuckDuckGo is a private search engine that you can use on the dark and surface webs.
Facebook is also a legal social media platform with a Tor version for anonymity. There are also many other legal dark links that you can access on Tor, I2P, and other browsers. However, you must research such platforms beforehand to get their onion link from an official site.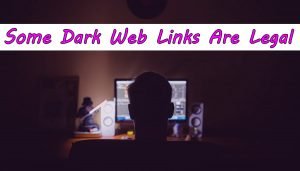 This is because some platforms have fake mirror versions created by cybercriminals on the dark internet. If you end up on such a site, you may suffer from data loss, financial loss, or other consequences. Mail companies such as Proton Mail also have alternative Tor versions for dark net users.
So you don't always have to visit illegal sites on the dark internet. Restrict your activity to legal platforms to save yourself from severe legal consequences later. If you use suspicious dark links persistently, you may end up facing a hefty fine or jail time.
Invitation-Only Dark Web Links Offer High Security
Most people use the dark internet for illegal and suspicious reasons. You may also be doing the same. If so, you will benefit from invitation-only dark links. Such sites offer greater security than other dark sites due to better encryption.
Sites that operate on an invitation mechanism do not let you see their content easily. When you open such a dark link, you will be asked to enter a password or other credentials that an insider must have sent you. Some platforms may also inform you that you must use a link sent by an admin to access the site.
To join invitation-only platforms, you must be friends with someone who is already a key member of that site. Remember that some invitation sites may be legal. For example, discussion forums may restrict their access to offer freedom of speech without haters interfering with their members.
Of course, most protected sites operate in gray areas. This is why you must be careful. If you're using the dark net for illegal purposes, such sites may cater to you. However, if you're a regular citizen wanting privacy, you should steer clear of invitation-only platforms.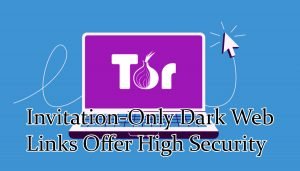 Most Dark Web Links are Interactive Discussion Forums
Discussion forums account for hundreds of sites on the dark net. This is why you will not have to worry about your activity when accessing such sites. That is especially true if your region does not face any censorship restrictions.
You should also note that not all discussion forums are related to news. Some are book clubs that let you discuss your favorite books or read them with other users.
There are also gaming forums on the dark net to discuss strategies and cheat codes. Such sites may also let you play online chess or games with foreigners.
The best thing about such forums is that they are not illegal and less prone to government interference. You can exercise freedom of speech without worrying much about your safety. However, you should be careful when plotting conspiracies because that can be a legal offense.
Mindful dark activity will help you maximize the benefits of dark URLs easily.
Dark Web URLs are More Resistant to Monitoring By Other Corporations
If you don't like the government monitoring your online activity, you may consider using the dark internet. This web is completely immune to monitoring, but it does offer greater security than the surface internet. Dark links enjoy better encryption than most surface sites.
The best thing about these links is that they are not indexed by crawlers. This makes it more difficult for government officials to find a specific dark site accurately. Some platforms also hide your IP address regardless of your VPN to offer more protection.
Remember, the dark links are resistant to government monitoring because of a lack of records and multiple servers across the world. This is why government crackdowns on different marketplaces are difficult.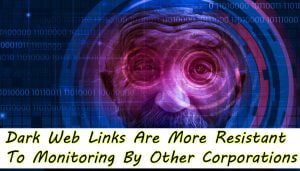 Dark sites are also hard to track by business corporations and cybercriminal organizations unless the latter has created the specific site for scamming. This is why you can access dark links to avoid being monitored.
What are Some Best Safety Precautions to Take Before Opening Dark Web Links?
Some dark web links may land you on suspicious platforms, which is why you must take personal security measures for the best experience. Here are some of them to help you get started:
Don't Use Your Personal Phone for Multi-Factor Authentication on Darknet Links
Some people make the error of using their personal accounts on Tor sites. For instance, you may add your personal email when signing up on a dark platform. If your multi-factor authentication is on, a notification will pop up on your phone.
Avoid authenticating from your personal devices because some dark links may be intercepted by hackers. You can lose access to your passwords and get blocked out from your bank accounts due to such errors.
Instead of your phone, use other alternatives for authentication if you must use your personal account only. However, the best option is to not link your personal accounts with Tor.
Avoid Using the Same Account Outside of Tor
If you created an email account on ProtonMail or other services on Tor, do not use them outside the dark net. It can compromise your dark activity and may let people know that you are using an alternative web for browsing dark links.
Once that account's info is on the surface web, your dark activity can tracked more easily by hackers. Government officials can also use advanced tools to monitor that account.
This is why you should never mix surface web accounts with the dark net and vice versa.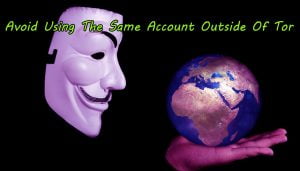 Don't Reveal Your Personal Details on DarkNet Links
A dark web link asking for your personal details is likely to be a scam. No site on this internet should be concerned with your information outside of Tor. Whether a platform wants your name, bank number, address, or other details, you must not give them any information.
Instead, close the table and save that link in your document of blacklisted onion URLs. Creating a blacklist library can help you avoid identifying scam sites if you are redirected to them months later through another platform.
Final Words
That was all you needed to know about the dark web and the advantages of its links. Many dark sites are legal and offer legitimate services. However, there is a thin line between regular and shady activities on the dark web.
This is why you must always be alert when opening onion URLs and take additional safety precautions to enhance your security on this web. You should also research dark links on the surface web to find their correct addresses before reaching them through Tor.