Information technology advancements transform how we buy practically all of our consumer items, from books and art to fresh fruits and vegetables. Illicit drug purchases follow a similar pattern, with many substances now being acquired and sold through anonymous internet marketplaces.
Darknet marketplaces, often known as crypto markets, provide a largely anonymous venue for illicit commodities and services exchange.
Around two-thirds of the darknet market activity is thought to be related to drugs. Almost every drug, including novel psychoactive, is available to customers with minimum technological knowledge with only a few clicks.
Types of Drugs available on the Dark Web!
Ironically, many types of drugs can be found on the dark web. Right beneath our noses, a drug sale is going on, on the dark web. Keep reading to know what drugs are available on the Dark Web.
Illegal Drugs:
The Darknet drug market for accumulated illegal drug categories stands for over $27 million. Let's discuss some of the prominent illicit drugs under this category.
1. MDMA Ecstasy:
The MDMA Ecstasy constitutes the biggest share of illegal drugs. It is available in crystal and pills. You will not believe that its estimated trading volume is estimated at a humongous $7.7 million. And its trading is skyrocketing in 2022.
2. Marijuana:
The second-biggest drug in the illegal category is none other than Marijuana. It is available in Weed, Hash, Skunk. The edible grade is also being traded on Darknet. Its approximate market volume is nearly $5.7 million.
3. Cocaine:
The third biggest drug after Marijuana is Cocaine. It is very famous among the students and adults alike. Peruvian, Colombian, Social, Bolivian, and Ecuadorian Cocaine can be found on the Dark Web.
4. Heroin:
Heroin is the fourth biggest illegal drug being traded on the dark web. Afghan, Brown and White Heroin is traded in the drug marketplaces of Darknet. Its estimated market volume is more than $1.8 million.
5. LSD:
LSD is being sold on Darknet in Blotter and tablets. And it contributes $1.5 million in total share of illegal drugs on the Darknet.
6. Crystal Meth:
This drug is very popular among youth, particularly students. Crystal meth having different concentrations is being traded on Darknet. Its market share stands at $1.4 million.
Some other drugs include Ketamine, DMT, Mushrooms, and TCI, with a combined trading volume of $1 million.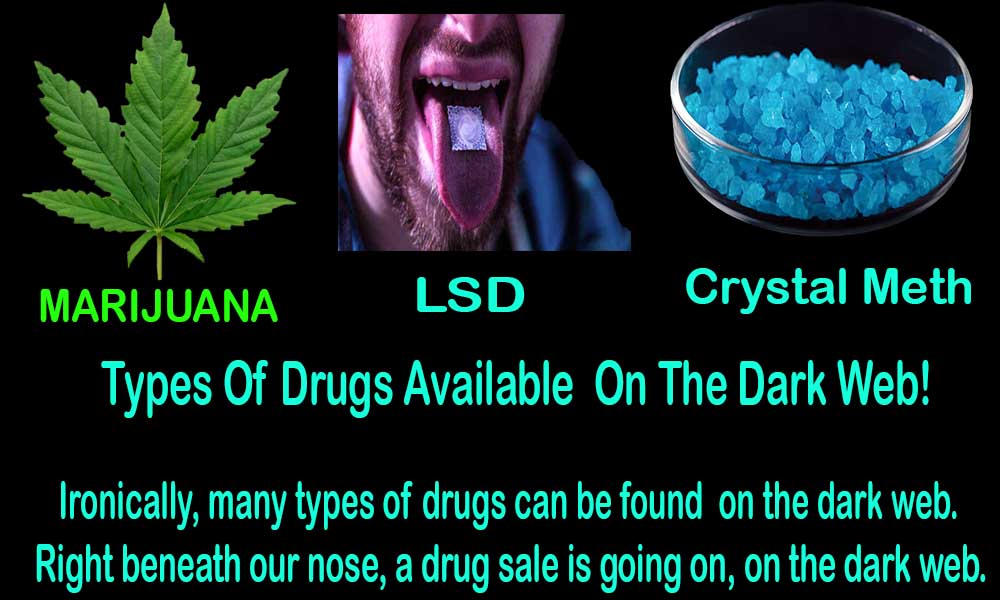 Prescribed Drugs
1. Alprazolam:
A major chunk of prescription drugs available on Darknet constitutes Alprazolam. Its market volume on the Darknet Drug market crosses $1.1 million.
2. Xanax:
The second biggest prescription drug on the dark web is Xanax. Its market value stands at 1 million. And a sudden spike in its trading has been witnessed in recent years.
3. Oxycodone:
The third-largest drug in the medical-grade category is Oxycodone. The total trade volume of Oxycodone is more than $0.8 million.
4. Valium:
It is a surprise to know that Valium is also on the list of prescription drugs. Its estimated market volume is around $0.3 million.
5. Ritalin:
This drug is used mostly to treat ADHD and attention hyperactivity disorder. It is reported to have a trading volume of $0.1 million.
How It all started- A brief history of Darknet Drug Trading
It all started with the Silk Road. It is widely regarded as the forerunner of illegal trade. If you call it the Godfather of illegal dark web activities, it won't be wrong. However, as with most illicit activity, as one door closes, another opens, other significant marketplaces sprung up, attracting Silk Road's dealers and consumers.
Let's look back over the previous well-known darknet markets.
Dream Market and Beyond
Dream Market, the dark web's longest-running market, was shut down because it was having trouble keeping up owing to DDoS attacks fueled by a $400,000 ransom demand they couldn't afford.
Dark web marketplace proponents argue that libertarian reformers run hidden websites that facilitate the sale of illegal goods. These reformers have revolutionized the drug market by making it safer for buyers to obtain their substance of choice without the risks of getting it from a shady dealer down a dark back alley.
Supporters of the sites also claim that their eBay-style feedback systems have resulted in a rise in drug purity as online dealers compete for customers.
Unfortunately, things don't always work out that way. It's debatable if buying drugs through dark web markets is safer than buying from a street dealer. Still, the nature of the commodities and services advertised on these sites means there will always be a level of danger associated with giving them money.
Anyone attracted to the security dark web markets claims to provide should think about the risks before using them since there will be no customer service department to complain to if something goes wrong.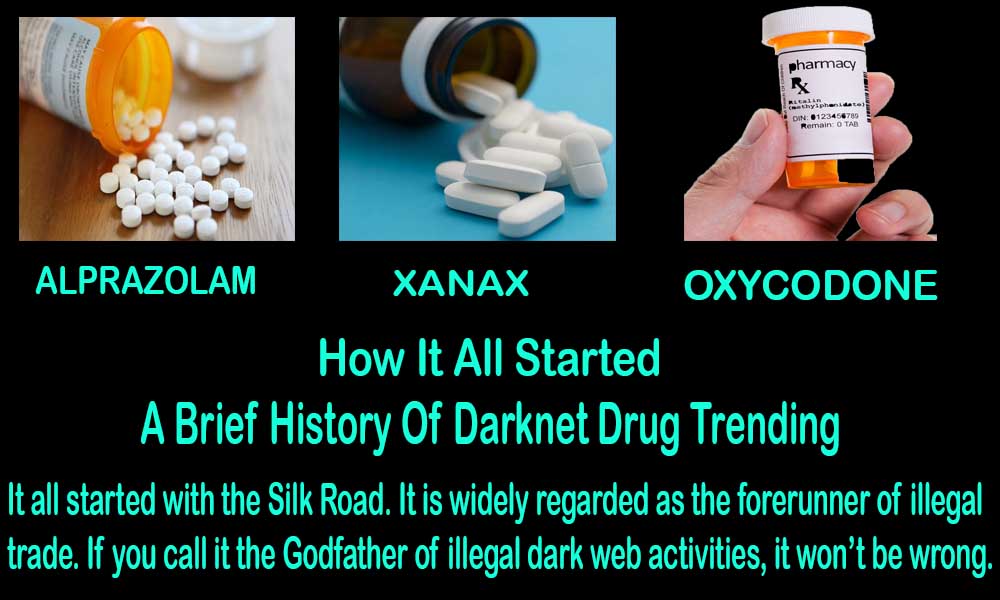 Some Big Drug Lord marketplaces on Darknet
Almost all of us know that Etsy and Amazon exist but do you know that you can get some big drug lord marketplaces on Darknet as well?
1. Empire market
It is always good to start talking about the big drug lord marketplace with the empire market, which is eventually the biggest. You will see that they have 50,000 listings with over 1 million users and 4500 vendors.
2. Hydra
Hydra must have been the luckiest marketplace on the dark web because it enjoyed $1000000000 in sales from 2016-2019
3. Versus
If you are into any kind of drugs, you should look for versus which has it all that you can desire.
4. White House marketplace
Well, this one is for all such people who are into illegal security tools and drugs. The fanbase isn't as great, but it's a very potent marketplace on the dark web.
5. Cannazone
You will be lucky to find cannazone if you are into weed. They have around 25000 listings.
How does Drug Trading happen on the Dark Web?
Vendors can contact consumers and accept payments anonymously, thanks to encryption technology. Because the pharmaceuticals are sent by mail, there is no need for the vendor and customer to meet in person.
These shield vendors from various threats common in traditional forms of drug distribution, such as undercover cops, predatory standover techniques in which suppliers may be robbed, injured, or even killed by rivals, and consumers may spy on their source if they are detected.
Some respondents believe that being safe from physical harm on the dark web is not simply an advantage for existing drug providers. But it may also attract those who would not otherwise sell narcotics.
These findings illuminate why the dark web is becoming increasingly appealing to users of illicit narcotics and those who sell them.
The dark web provides an alternative to the risk and brutality of distributing drugs offline for people who are not afraid of confrontation and are sufficiently tech-savvy.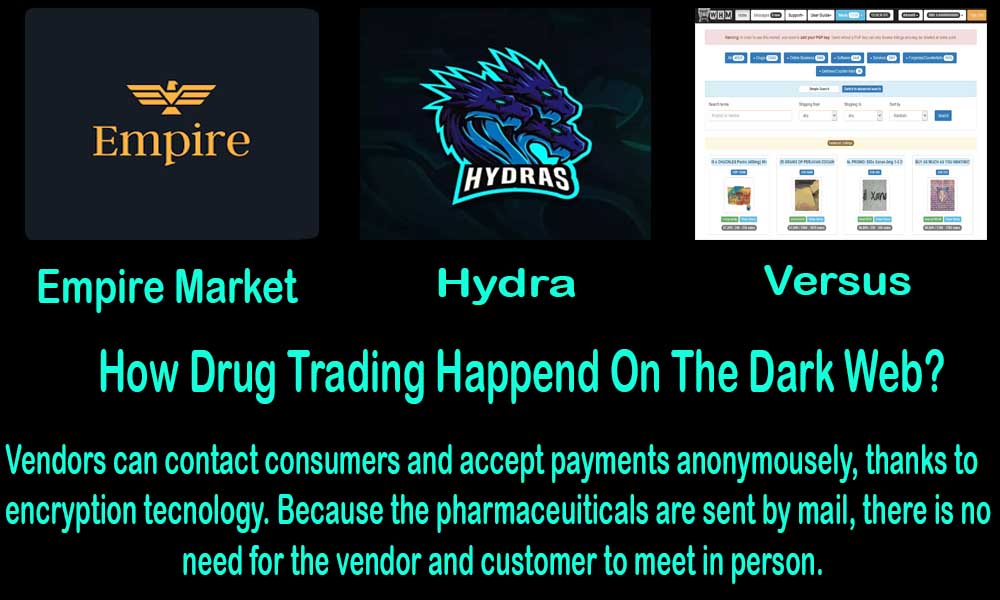 Can someone buy Drugs on the Darknet?
Yes, people can, but we strongly advise them to buy only medical-grade drugs. Any other drug other than mediclinic grades is illegal to purchase. Here is how they can buy drugs for medical purposes only:
1. Use VPN
You know that VPN opens the door that otherwise cannot be opened. If you want to buy drugs from the Darknet, you should try it with some VPN.
2. Download tor
Do you know that this browser was developed with the help of the US Navy? Tor is the most effective way to get into the dark web to buy some high drugs. Every activity of yours will be anonymous, and you will be able to read the Internet without exposing your identity.
3. Buy Bitcoin
Darknet drugs can not be purchased if you are not into Bitcoin. The dark web only accepts Bitcoin as a currency because nobody can trace it. Buy some Bitcoin so you can buy something from the Darknet.
4. Stores
Even the dark web has a Google, which is called Grams. You can also use Duckduckgo and Torch. All these places will lead you to your favorite drug.
5. Shop
Once you make sure that you have your desired Rob, you can shop for it with the help of Bitcoin. You should use a PO box to avoid possible risks regarding shipping.
Is it safe to buy something on a darknet?
Many of these are legal businesses that provide convenience, privacy, and the security of traditional prescription procedures.
However, consumers should be aware of those who use the internet to sell things or engage in behaviors that are already prohibited in the offline world. These so-called "rogue sites" either sell unauthorized items or if they do, they frequently skirt around established consumer protection measures.
Some websites, for example, ask clients to complete a questionnaire before obtaining prescription medications, obviating the need for any face-to-face interaction with a health expert.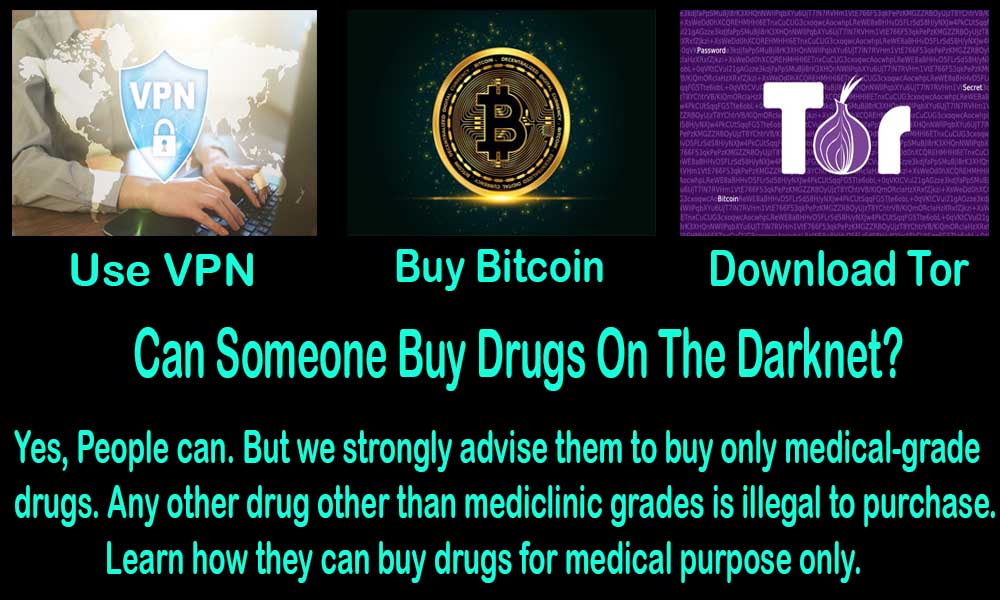 Even when purchasing from reputable sources, drug users risk consuming their favorite narcotic every time. This holds for narcotics purchased on the dark web and those obtained from street sellers. Feedback and comments made on shady web merchants' profiles are no assurance that the drugs they offer aren't laced with various noxious bulking agents that can make customers sick or even kill them.
Meanwhile, the availability of developing drugs on the dark web, such as novel psychoactive substances and synthetic opioids, has risen in recent years, raising fears that users may overdose on chemicals they don't understand.
Non-fatal overdoses and fatalities connected to drugs like fentanyl have been growing in North America and Europe in recent years, coinciding with their growing availability on the dark web.
The truth is that there are several hazards to be aware of while doing business on the dark web, mainly if your final objective is to sell illegal substances.
To begin with, pricing on the dark web is often greater than those found on the street. You're paying the price for privacy, comfort, and simplicity.
Furthermore, you have no idea what you'll get. Heroin may be laced with fentanyl, prescription pills may be fakes, and rare drugs like Quaaludes are frequently bootlegs.
When there is a delay, waiting for supplies to come in the mail – assuming they are not seized en route – may be difficult for anybody addicted to narcotics.
If you've ever contemplated buying drugs on the dark web, keep in mind that law enforcement is well aware of the situation. DEA officers have shown up at the doors of several naive purchasers instead of the box of cocaine they expected. Buying drugs via the internet puts you in danger of facing federal narcotics charges.
The second clear and present hazard is not knowing what you're receiving when buying something online from an unidentified seller.
Verdict
The dark web isn't all doom and gloom, and it's also not a lawless jungle, even if the marketplace works outside of the law.